Discover our departure bases and choose a route

on the Canal du Centre, the river Charente, the river Lot, the Canal de Midi... or on a waterway in a foreign country in Europe.
Our bases are located in France: Burgundy, Charente, Brittany, Lot en Quercy, Anjou/Pays de Loire, Ardennes, Alsace/Lorraine, Camargue, Languedoc-Roussillon, and Europe in Holland, Great Britain, Germany, Belgium, Italy, Sweden, Portugal, Poland and Russia.
Click on the name to discover the departure base for your cruise.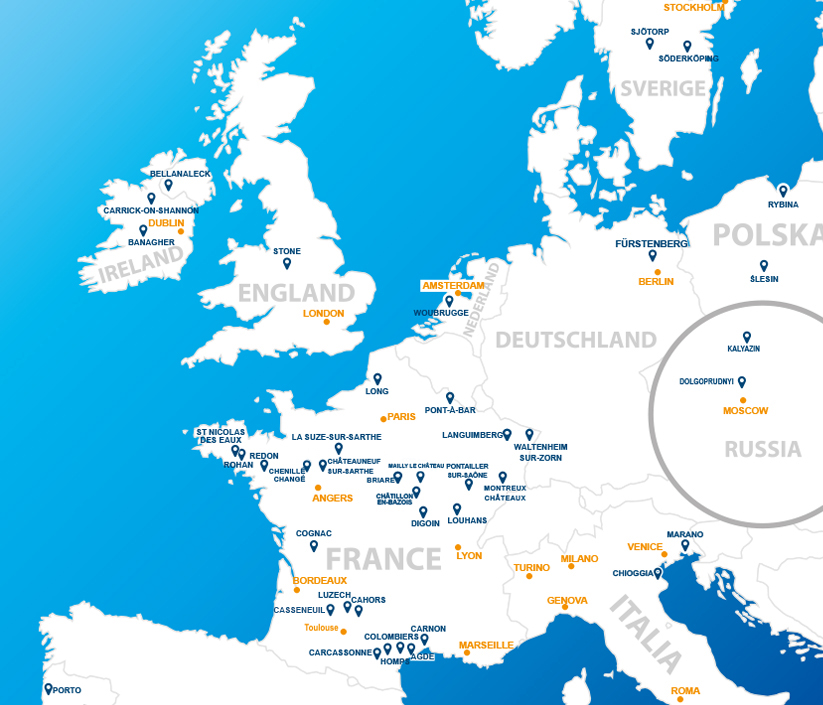 Our departure bases
Burgundy
Mayenne
Brittany
Charente
Lot-en-Quercy
Alsace - Lorraine
Ardennes
Camargue
Canal du Midi
Germany
Holland
Italy
Poland
England
Ireland
Sverige
Portugal
Sweden
Portugal
Schedules
Departure for one week and more:
Departure days are Monday, Tuesday, Wednesday, Thursday, Friday, Saturday and Sunday. If you can, choose a departure during the week, as our team will have more time to spend with you. Reception from 3 pm. No reception will be possible before then. Boarding from 4pm to 7pm. except in Italy from 4:00 p.m. to 6:00 p.m. Return at 9 am. In Poland, reception on Sundays at 12pm, return Saturday at 12 pm.
2 day week end:
Reception on Saturday at 10 am (if the boat is available, you can board on Friday at 4 pm) except in Italy, reception on Friday at 3:00 p.m. Boarding on saturday from 10am to 11am. Return on Monday at 9 am.
Mini week:
Reception on Monday from 3pm. Boarding from 4pm to 6pm. Return on Friday at 9am (except in Italy and Czech Republic)

NB : in Italy week ends and mini weeks are confirmed 30 days before departure.
"We will give you a warm welcome"
Whether you come by car, train or plane, our bases are ready to welcome you.
Then there will be some paper work to do (temporary licence, inventory and boarding). Altogether with the instruction, it will take about two hours before you can leave.
Try to arrive an hour before the departure time as this will give you time to do any neccessary supply shopping.
Be aware that most of our boats that leave in the afternoon will have been returned that morning. So there is no need to arrive too early.