The house boat and river boats fleets

The Cosy fleet : Introduced in 2018, the "Cosy" fleet has been designed for boaters who want to take full advantage of the experience of river tourism, while enjoying the same comfort on board as a boat owner. Thanks to its great habitability and the breath-taking view it offers of surrounding nature, this fleet is ideal for a private holiday for a small group. It is also perfectly suitable for hire with a skipper for those who do not wish to drive the boat during their holidays.

The ELECTRIC fleet : Embark on a boat from the electric fleet and head for the future, cruising on an all new model of boat, forefront of innovation. This fleet has been designed to take on all the challenges of the 21st century: respect for the environment, exceptional manoeuvrability, hybrid cockpit, all combined with cosy comfort and great habitability …

The PREMIUM fleet: distinguishes itself from all the others. You will find the most comfortable, elegant and spacious boats with special services such as : each cabin with shower and WC's, satellite and terrestrial TV with flat screen and DVD player in the lounge, freezer, extractor fan, dishwasher, coffee machine, a toaster, a juicer, air conditioning, bow thruster, 220V, double steering position, wooden deck furniture with integrated grill plate, full hotel service, towels, tea towels and green cleaning set.
NEW: concierge service: benefit now from a trilingual agent, at your service from Mondays to Saturdays from 9am to 12pm and from 2pm to 5pm. This agent will follow-up on your booking, will book your transfers from the airport or from the train station to the base, but will also book your excursions, your restaurants and will take care of supplying your boat.

The CLASSIC fleet: This fleet includes all the typical boats for canal boating. Easy to handle and traditionally shaped, these are the perfect boats for family holidays. Linen is part of the rental (blankets, sheets, pillow cases and pillows). Towels and tea towels can be hired at the departure base. A cleaning set is also for sale at the base.

The Simply fleet: This fleet allows you to discover canal boating thanks to its low price. The boats are often older with a more basic level of interior fittings. Bedding is not included ! Bedding, towels and tea towels can be hired at the departure base. A cleaning set is also on sale at the base.

ACCESS fleet: this fleet is made of boats that have the agreement "Tourisme et Handicap" and are specially equipped to make them wheelchair accessable for one or two wheelchairs.
Choose my canal boat
The boat that you choose will be your "home" during your cruise, therefore it is important to make the right choice. All ours boats offer a minimum standard of comfort such as running hot and cold water, shower, toilet, kitchen and heating. The amount of equipment depends on the type of boat.
The sleeping capacity often determines your choice of boat and the capacity is hence indicated bythe number written before the word 'people'.
For example : 6/8 + 1 PEOPLE. the first number is for the sleeping capacity without using the lounge. The second number is the sleeping capacity using the lounge. Then the third number is for an additional berth for a child under 6 (it is often a folding berth in a cabin).
It is never recommended to use the maximum sleeping capacity. By doing so you reduce the comfort of all aboard and the equipment (fridge, showers, toilets) is generally not sufficient for one week.
To help you to choose your boat, we have classed our fleet according to:
the services the fleets
the level of comfort on board the buoys
The size the different categories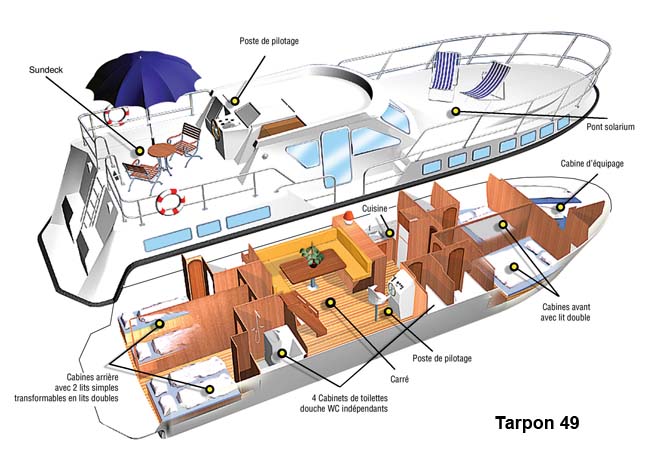 INVENTORY
Equipping:
Mooring ropes – life buoy – boathook – anchorage – spikes – hammer – anchor – fenders – 10l bucket – water hose – gangplank
Safety equipment:
First Aid kit – instruction manual – life jackets – fire extinguisher
Domestic equipment:
Ashtray – Broom – Cloths – Dish scrubber – Coat hangers – Dust pan and brush – WC Set – Clothes pegs – Wash basin – Bin
Crockery:
Glasses – wine glasses – soup plates – dinner plates – dessert plates – bowls – coffee cups – dishes – salad bowl – coffee pot – filter holder – water jug – knives – forks – spoons – salad servers – juicer – tea pot.
Cookware:
Table mat – bread basket – plastic box – tin opener – bottle opener – corkscrew – vegetable knife – carving knife – ladle – skimmer – wooden spoon – carving board – pan – lid – frying pan – salad spinner – cooker or pot – sieve.
Linen:
Bolsters or pillows – bolster or pillow cases – sheets– blankets or duvets(except budget fleet).
EQUIPMENT
Converter 12 v / 220 v
To plug into a cigarette lighter socket (max 100 watts) to load mobile phone or camera. Lots of boats have one.
Some boats have a shore power supply.
Kitchen
All our boats have a sink, a gas stove with one to 4 burners
Most of our boats have an oven (except Fred 700, Riviera 750, Linssen, New Concorde, Triton 1060 Handy, Rego 2000).
Kitchen extractor fan available on our Tarpon boats.
– All our boats have a fridge (gas or electric) with a capacity from 40 l to 220 l by size of boat. Some of them have a freezer.
Sanitary equipment, shower, WC
All our boats have at least one washbasin. Some have one inside each cabin.
All our boats have at least one shower. Some have several.
All our boats have WC and some have more than one. They can be outside the shower.
Steering position
All our boats have a steering position inside. Some have a steering position inside and out.