With the Mayenne, Sarthe and Oudon, Châteauneuf sur Sarthe is the gateway to over 300 kilometres of waterways. Each route will offer you different panoramas and landscapes, so let yourself be guided by everyone's preferences. Whichever itinerary you choose, your waterway cruise will allow your crew to ride their ATB bikes along the towpaths, following your boat. If you prefer a spot of fishing, the region's lakes and ponds will quickly become essential stopping points. Set off on your waterway cruise and discover the region's towns and villages. Why not take the time to discover the commune of Sablé sur Sarthe, home to a castle that's well worth a visit ? This will also give you the chance to purchase some of the famous sablé shortbreads, a local speciality to take back and enjoy aboard your boat.
---
From Laval to Angers, a cruise through the region's turbulent past
As well as enjoying going through locks and unwinding to the soothing rhythm of your houseboat, you'll also have the opportunity to explore the region's most prestigious sites. You'll get a unique view of the Château de Laval from the deck of your houseboat, since it overlooks the Mayenne, encouraging you to stop off and visit. Make sure you navigate your way to the imposing town of Angers, famous for its castle and medieval buildings, as well as its many parks and municipal gardens. You can also take your boat to the town of Le Mans – motor racing enthusiasts certainly won't want to miss the chance to visit the famous 24 Hours of Le Mans circuit.
---
Informations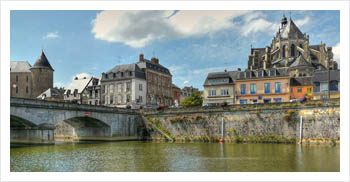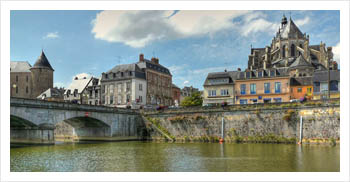 Navigation on the Mayenne
A wild river of over 124km, the Mayenne will delight all those who search adventure and those who love nature. You can meander along this calm, roaming, green river and enjoy the passing scenery.
Got a question about the area? Ask the lock keepers, it's their stories and knowledge which will bring the Mayenne to life for you. They'll be more than happy to help and advise you.
If the lockkeeper isn't there… you'll have to open the lock yourselves! Don't worry, this is a rather simple operation that you can achieve by working calmly with the help of your crew or people along the towpath. And it will be an excellent memory of your cruise!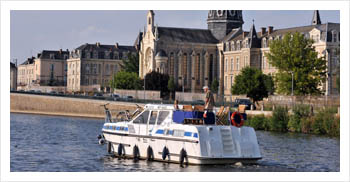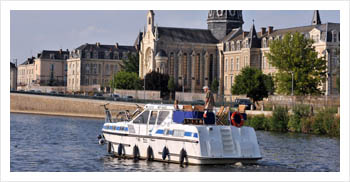 Navigation on the Oudon
While flowing over 80km, the River Oudon is however only navigable from Port Segréto to Mayenne, a length of about 18km which possesses 3 locks.
This makes it one of the smallest, navigable rivers in France. We also recommend stoking up on supplies such as food and water, as there is no access to provisions from Segré to the Lion of Angers. .
Indeed, the River Oudon will take you into a wild landscape, in the middle of nature…
Navigation on the Sarthe
132km long, the Sarthe is a broad river which flows through a green countryside. Quiet, this river is punctuated by beautiful, flowered locks which are operated by hand by the local lock keepers who live there. These lock keepers will be able to advise you on the best activities and sights in the regions. On this river you will come across small accessible villages, castles, churches… This tranquil river will astonish you with its hidden treasures.
Photos
Videos
Canalousmayenne
Tourist attractions
The castle of Plessis-Mace, near Pruille
The town of Lion d'Angers
The abbey of Port-Salut, in Entrammes
The "Domaine de la Petite Couere", near Segre (a reconstitution of a village from the beginning of the 20th century)
The tow path along the Mayenne river from Daon to Angers
The flowers by the locks
Laval : its old town, its viaduct, its "wash-house" boat
Angers, its gardens, and leisure park Terra Botanica
24 Hours of Le Mans
Routes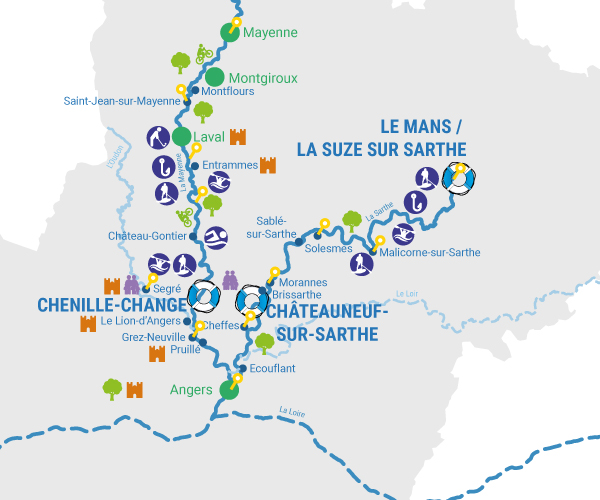 Suggestions of routes from Châteauneuf-sur-Sarthe
One Week :
Châteauneuf sur Sarthe > Sablé > Malicorne > La Suze sur Sarthe > Châteauneuf sur Sarthe 206km – 38 locks 35 hours
Mini-week :
Châteauneuf sur Sarthe > Angers > Sablé > Châteauneuf sur Sarthe 122km – 12 locks 17 hours
Week-end :
Châteauneuf sur Sarthe > Sablé > Châteauneuf sur Sarthe 62km – 10 locks 9 hours