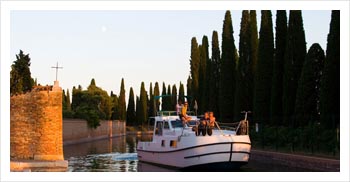 Chioggia (a little fisherman village in the south of the Venice lagoon) has traditionally been the first base in Italy. Its central location in relation to the Padano/Veneto waterway makes this picturesque "water" city an ideal harbour and departure point for the best routes all year long. The base is located in a strategic and panoramic point at equal distance between Chioggia (downtown, 300m) and Sottomarina (sea-side resort, 500m).
Chioggia, a fishing capital and the European centre for horticultural production, has the appearance of a charming sailor town while being the second largest city after Venice in the lagoon. It is a delight to discover the fresh fish market in this city of Roman origin. Its architectural treasures invite you to take an exciting tour through the town: the cathedral, its domes and bells, the Refugium Peccatorum with the scared image of Madoona, churches, Palace Poli, bridges, the 'pescheria' (fish shop – visit obligatory), the small Vigo place and its column of 1786 etc. This stunning city is quiet and yet at the same time full of life and is set in a beautiful natural setting.
Informations
To see: the town of Chioggia; the town of Padou; the town of Trévise; villas of Palladio, the fresco of Giotto.
To taste: Broetto (fish soup), risotto with pescatora, papini, sugoli, bossolà (bread of Chioggia), the wine Bardolino, the sparkling wines of Conegliano.
To know: 54 km from Venice (by road); 27 km from Venice (by channels).
Most Important: Venice, its islands, its lagoon.
Navigation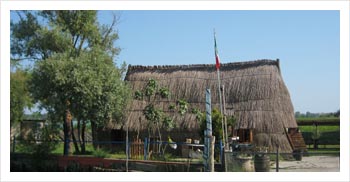 You can sail through the Venice lagoon, one of the most beautiful and celebrated sites of Europe. During your trip you can come across fishermen's houses and see the Venetian countryside, perhaps you'll even meet a colony of migratory birds…
On each island there is a different treasure to uncover, the glass craftsmen of Murano, the laces of Burano, the archaeological treasures of Torcello, etc. While sailing down the Brenta, the river canal, you can admire all the villas which are reflected in the water. A relaxing cruise in a dreamlike landscape…
Photos
Videos
Chioggia
Tourist attractions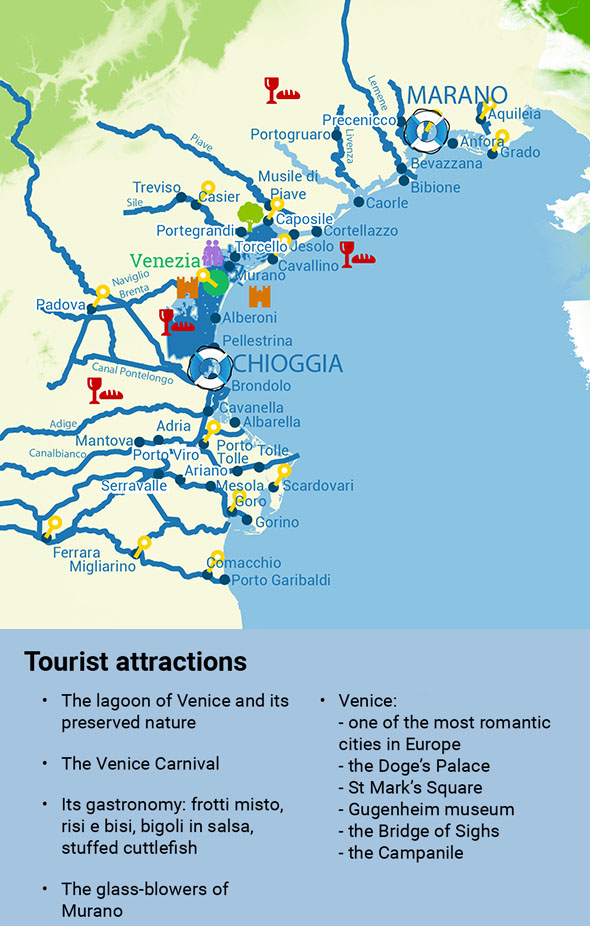 Routes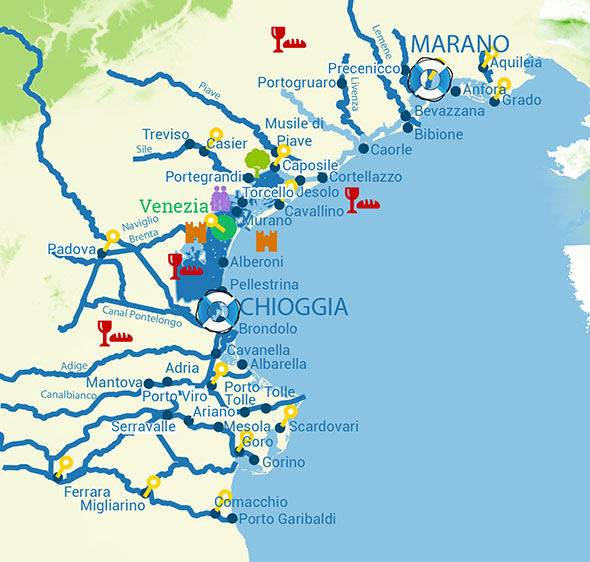 Suggestions for cruises from Chioggia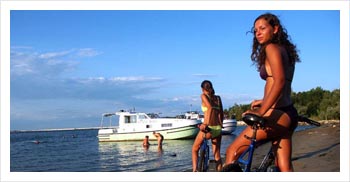 One week
Chioggia, Venise (the lagoon and the islands), Trévise, Chioggia : 193 km, 2 locks, 3 movable bridges, 27 hours
Chioggia, Venise (the lagoon and the islands), Padova, Chioggia : 160 km, 10 locks, 18 movable bridges, 26 hours
One week one way
Chioggia – Venice (the lagoon and the islands) – Cavallino or Portegrandi, Musile, Cortellazzo, Caorle, Bibione – Marano : 160 km, 5** locks, 6 movable bridges, 21 hours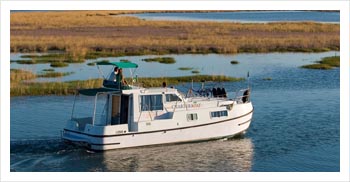 Two weeks
Chioggia, Marano (via Cavallino or Portegrandi, Caposile, Musile, Cortellazzo, Caorle, Bibione, passing through Venice and the lagoon islands) : 140 km, 5 locks (some normally always open), 5 movable bridges, 17 hours
Chioggia – Venise – Jesolo – Caorle – Chioggia : 240 km, 6 locks, 8 movable bridges, 32 hours
Chioggia – Adria – Zelo – Governolo – Mantova – Castelmassa – Ferrara – Serravalle – (Boccasette) Chioggi : 345 km, 17 locks, 35 movable bridges, 42 hours