Italy offers an outstanding river network. Discover Venice and Marano while navigating as you wish through the lagoon. 60000 ha of nature, environment and cultural history are available to explore and discover. While navigating along the rivers Po and the Brenta, you will have the opportunity to visit the magnificent villas located along the banks. During your cruise you can enjoy several gastronomic stopovers and sample gourmet fish and crustaceans in charming little restaurants.
2 departure bases:
Chioggia is a small fishing town at the far southern edge of the Venetian lagoon. Its central position in relation to the Padano / Veneto waterways makes this attractive and picturesque "water" city an ideal springboard for the most beautiful routes in all seasons. The base is located in a panoramic position, strategically midway between Chioggia (historic centre, 300 m) and Sottomarina (seaside resort, 500 m).
Marano is another beautiful small town at the centre of the Grado and Marano lagoon, ideally twinned with Chioggia for its thriving fishing industry. The base is only 300 m from the historical centre on the island connected to the mainland by two bridges, one for vehicles and one for pedestrians.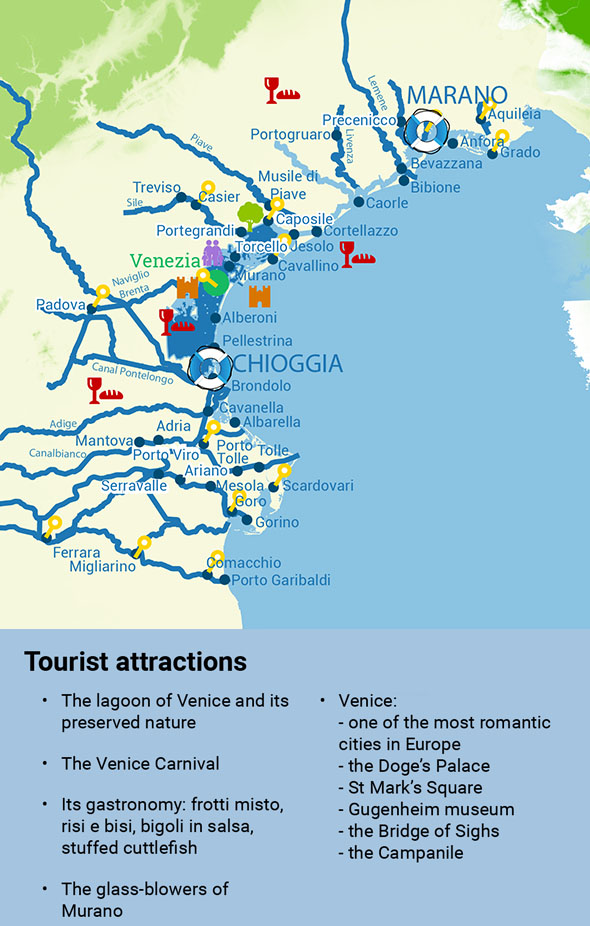 Photos of our inland cruises: Italy
Discover photos of Italy and imagine your inland cruise on a license free boat.
Videos
Chioggia