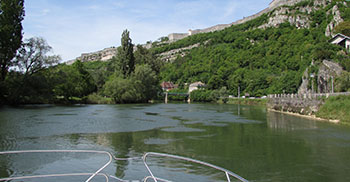 From the Rhône-Rhine canal you can admire the surrounding tourist landscape in all its beauty, passing a lock chiselled out of the rock at Rochefort-sur-Neon or pausing at Oselle with its famous cave and artificial lake, as you go through the Thoraise tunnel. And to top it all off, why not stop at the Rancenay double-lock as well?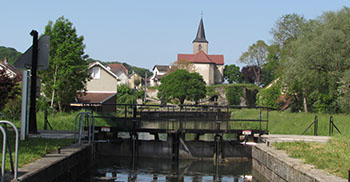 5500km of rivers, more than 100 ponds, 80 lakes, rapids, waterfalls, and springs—you can discover them all as you journey along the waterways of Franche-Comté. Whether you stop over in Besançon, Dole, or Montbéliard, you will experience the depth of these cities' history, customs, and legends.
Besançon : Besançon boasts a prestigious historical heritage. A fortress and Vauban fortifications listed as a UNESCO World Heritage site; 200 listed monuments, a hundred mansions—the second most listed and protected area in France. Just the thing for your next port of call!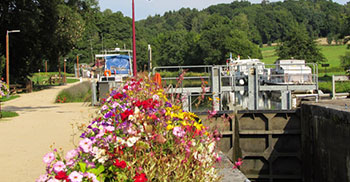 Baume les Dames : Come for a few hours or stay for a holiday! In the heart of the Doubs and Cusancin Valleys, the quietness and calm will enchant and relax travellers in search of rest, in the very heart of a World Heritage city, its alluring villages, and lush natural surroundings!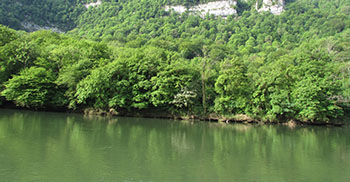 Dole : Located at the edge of the Jura, Dole is the birthplace of Louis Pasteur. The city was the capital of Burgundy before becoming part of the kingdom of France in 1678. Because of this, you will find many Renaissance-inspired buildings as well as a great deal of décor in multi-coloured stone. A walk through this city will feature the bell of the Notre-Dame collegiate church, which is more than 500 years old and proudly dominates the historic city centre.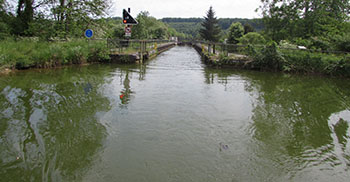 Montbéliard : For almost four centuries Montbéliard was under the auspices of the Wurtemburg family. Its imposing monuments, lanes, squares, and colourful facades are striking architectural reminders of Montbéliard's unique history.
Franche-Comté is above all a rich nest of natural and historic heritage. Treat yourself to a river cruise aboard one of our no-licence-required boats with friends or family or enjoy hikes, walks, cycling, or historic tours; there is something for everyone here!