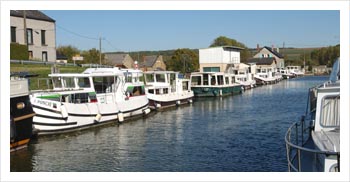 Pont à Bar is a pretty small hamlet with a score of inhabitants. It was founded during the construction of the Ardennes Canal during the last century. The small, attractive river port where you commence your trip is surrounded by typical Ardennes houses. Here you can appreciate the great diversity of landscapes as you cruise along through the meadows of Meuse and the legendary forests of Ardennes…
Approximately 10km further you will come across the town of Sedan. Today, a town of Art and history, Sedan, and in particular its old centre, possesses stunning architecture. Enjoy a break at the Charleville Mézières to visit the zoo where you will undoubtedly see various wild boars, stags, roe-deer and birds. For those who enjoy museums, the Ardennes museum is well worth a visit to discover its hidden treasures of history and archaeology.
Informations
To see: the castle of Sedan; the Mount Olympe, the large marionnettist and the Rimbaud museum in Charleville Mézières, Verdun, the academy of the rural tool with Brécy, the museum of Ardennes.
To taste: Local bread of the Ardennes, soup of the Ardennes, the raw ham of the Ardennes, the Rimbaud pot, the white roll of Rethel.
To know: Charleville Mézières is the city of the famous poet Arthur Rimbaud.
Favourite: the animal park of Charleville Mézières.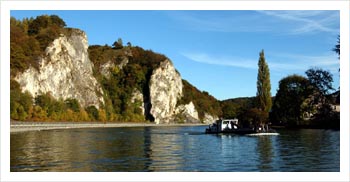 Navigation on the Meuse
950 kilometers long, the Meuse River goes through 3 different countries: France, Belgium and the Netherlands. The silver river, also sometimes known as the 'Capricious Meuse' twists and turns through meadows and fields, orchards, vineyards and forests. Relax and let yourself go with the flow of the river as it allows you to discover the heroic and attractive history of this area. Who knows maybe you will come across one of the magnificent herons that live on the Meuse…
Navigation on the Meuse Canal (or the canal of the east)
Navigation on the Meuse Canal is punctuated by 23 locks just until Verdun. Here you can enjoy the charms of the Meuse valley, far away from the busy cities and roads. This is the time to fish! The Meuse is overflowing with pike, carp and many other fish!
Navigation on the Ardennes Canal
This canal, 106 kilometers long and punctuated by 46 locks until Berry au bac, connects the slopes of Champagne to the Meuse. You can cruise through the countryside, until the famous series of the 26 automatic locks in the valley of Montgon. Excitement is guaranteed!
Photos
Tourist attractions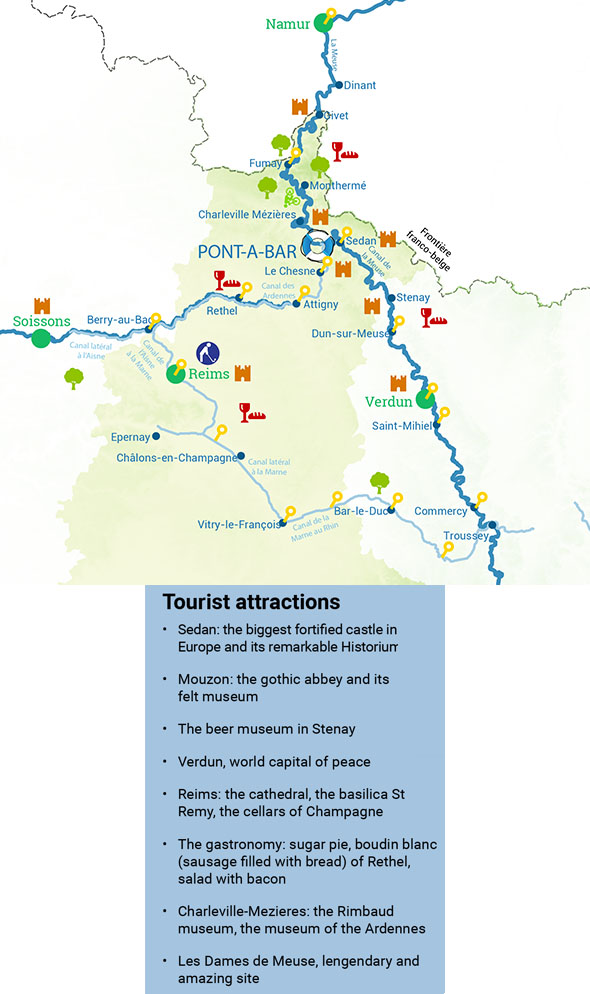 Routes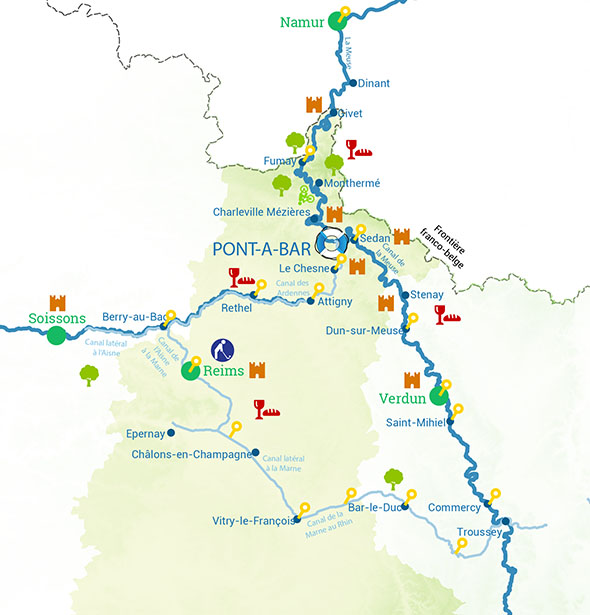 Suggestions for cruises from Pont à Bar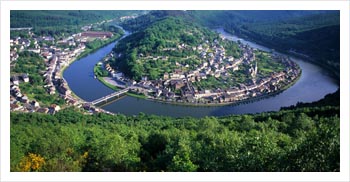 Week-end
Pont-à-Bar – Charleville Mézières – Monthermé – Pont-à-Bar : 70 km – 16 locks – 14 hours
Pont-à-Bar – Sedan – Mouzon – Stenay – Pont-à-Bar : 105 km – 18 locks – 14 hours
Pont-à-Bar – La Cassine – Le Chesne – Pont-à-bar : 80 km – 10 locks – 10 hours
Mini-Week
Pont à Bar – Monthermé – Revin – Fumay – Pont à Bar : 95 km – 24 locks – 23 hours
Pont à Bar – Sedan – Stenay – Dun/Meuse – Pont à Bar : 130 km – 24 locks – 20 hours
Pont à Bar – Le Chesne – Attigny – Pont à Bar : 90 km – 66 locks – 23 hours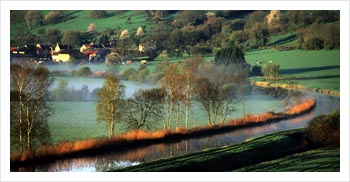 One Week
Pont-à-Bar – Monthermé – Fumay – Givet – Pont-à-Bar : 190 km – 40 locks – 35 hours
Pont-à-Bar – Sedan – Stenay – verdun – Pont-à-Bar : 220 km – 44 locks – 35 hours
Pont-à-Bar – Le Chesne – Attigny – Asfeld – Pont-à-Bar : 164 km – 82 locks – 38 hours
Two Weeks
Pont-à-Bar – Fumay – Givet – Namur – Pont-à-Bar : 290 km – 60 locks – 52 hours
Pont à Bar – Stenay – Verdun – Saint Mihiel – Pont à Bar : 290 km – 72 locks – 54 hours
Pont à Bar – Berry au Bac – Reims – Epernay – Pont à Bar : 280 km – 142 locks – 70 hours
Three Weeks ( loop circuit )
Pont à Bar – Attigny – Berry au Bac – Reims – Chalons en Champagne – Vitry le François – Bar le Duc – Commercy – Verdun – Sedan – Pont à Bar : 500 km – 203 locks – 100 hours