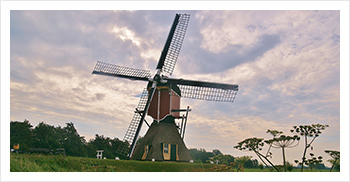 Woubrugge is a Dutch village in the Southern-Netherlands province. With a population of approximately 1,500, this small town is crossed by one of the many canals, a part of a large network of inland waterways throughout the Netherlands, and which enhance the attractiveness and charm of the "flat land" country. The Woobrugge nautical base is located within the most internal waterways of the Netherlands. It is an ideal point of start towards the discovery on the run-of-river of the historical cities, but also the beauty of a protected nature with its lakes and natural reserves, which represent a haven of peace at the heart of the country.
Unveil historical places such as Amsterdam and Haarlem, succumb to the temptation of traditional cheese markets, or simply enjoy the stunning display of tulip fields and windmills that are an integral part of the Dutch landscape.
Informations
To see
Amsterdam and its architecture,
The renowned Zaandijk windmills,
Alkmaar, its cheese market and cheese museum,
Volendam, a typical fishermen's village,
Haarlem : a city of art and culture, with 15 museums and a historic centre,
Gooda, a historic town and the Gouda museum
Enjoy :
Discover the famous Zaandijk windmills that are an integral part of the Dutch landscape.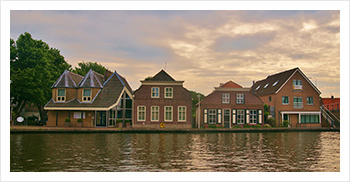 Touristical attraction
Amsterdam, tourist capital, its Rijksmuseum, Van Gogh museum, the NEMO (scientific and play museum)
Zaandijk and its famous windmills
Edam, the old town, cheese
Volendaam, fishermen's town
Alkmaar, its cheese market and its museum, tulips
Aalsmeer
Haarlem, Art and cultural town, its 15 museums, its historical center
Historical town and Gouda Museum
Lisse – Keukenhof spring garden
Town of Delft
Utrecht – the canals in Utrecht – Center
The 'Vecht' Canal with its gardens and beautiful houses
Routes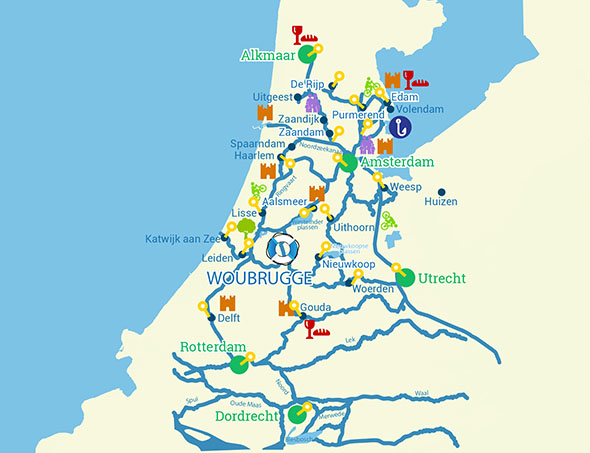 Suggestions for cruises from Woubrugge
Week-end or mini-week
Woubrugge – Uithoorn – Nieuwkoop – Woerden – Bodegraven – Alphen aan den Rijn – Woubrugge : 75 km – 10 locks – 4 hours
Woubrugge – Leiden – Haarlem – Amsterdam – Woubrugge (good for beginners) : 85 km, 12 locks, 12 hours
One week
Woubrugge – Leiden – Katwijk aan Zee – Kagerplassen – Braassemermeer – Westeinderplassen – Drecht – Woerden – Nieuwkoopse Plassen – Alphen aan den Rijn – Woubrugge : 124 km, 3 locks, 22 hours
Woubrugge – Amsterdam – Edam/Volendam – De Rijp – Alkmaar – Zaandam – Haarlem – Lisse – (Leiden) – Woubrugge : 180 km, 4 locks, 29 hours
Woubrugge – Amsterdam – Weesp – Utrecht – Gouda – Woubrugge (not recommended for beginners): 150 km, 6 locks, 25 hours
9 days
Woubrugge – Nieuwkoop(se Plassen) of Woerden – Westeinder Plassen – Kagerplassen – Katwijk aan Zee – Leiden – Braassemermeer – Woubrugge