Located halfway between Moscow and St. Petersburg, our Russian house boat rental base in Zavidovo is the ideal starting point for an exciting cruise in the land of the Tsars. Zavidovo, on the banks of the Volga River, is a well-known holiday destination for the Russian people, as it is the official holiday residence of the President of the Russian Federation.
Exceptional river cruise on the longest river in Europepe
With a length of 3645m, the Volga is the longest river in Europe. Throughout your river trip, you will discover different landscapes, between steep banks and majestic cliffs, developed beaches, cities, and more industrialized areas. Renting a houseboat in Russia will allow you to live a unique experience, to discover an almost confidential Russia as few travellers have the chance to know.
Less known than the big Russian cities, like Moscow or Saint Petersburg, this river cruise will allow you to discover a more authentic side, in contact with the inhabitants.
House boat rental on the Volga at Zavidovo
Zavidovo on the Volga River in Russia is a popular spot for ecotourism and fishing. You can admire the majestic spectacle of the floating islands of the Volga, overgrown with reeds. A river cruise in Russia will be an opportunity to experience an astonishing adventure and to discover the Russian gastronomy, just like its inhabitants: In all simplicity and strong in character.
A boat rental in Russia is an original trip, rich in emotions and discoveries. There is no shortage of ideas for walks and visits to monuments.
Our point of view
An ideal holiday, between town and country, to discover Russian culture and its history. On a river cruise in Russia, you will discover the essential, between pomp, testimony of the past and authenticity.
Informations
To see : The architecture of Russian monuments, full of colour
To taste : "Pierojki", small turnovers filled with meat, onion, potato and cheese.
Favourite : Zavidovo is a place of nature and water sports par excellence. On the banks of the Volga, numerous sports complexes will offer you the opportunity to try all kinds of water sports. It's time to take the plunge.
Pictures
Videos
Au fil de l'eau, sur le canal de Moscou
Attraits touristiques
. The Statue of Lenin
. The flooded bell tower in Kalyazin
. The Museum of Hydroelectricity in Uglich
. The Pyotr A. Smirnov Museum
Itinéraires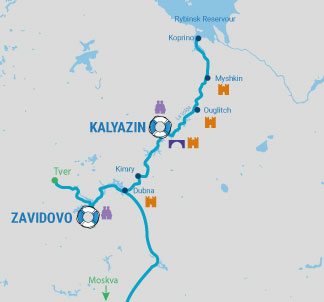 Suggested routes from Zavidovo
Weekend
Zavidovo – Tver – Zavidovo : 150 km, 0 écluses, 15 hours
week
Zavidovo – Koprino – Zavidovo : 520 km, 4 écluses, 52 hours
Sailing on the Volga
Charter only with skipper (1 extra cabin) (skipper fee already included in charter price)