Une croisière fluviale au soleil
A cruise in the sun
Enjoy a cruise in the sun and discover the "canal des deux mers" built by Baron Riquet (1604-1680). The canal du Midi is listed by UNESCO as a world heritage site and everything is untouched, from its round and oval locks to its arched bridges in romanesque style…
From Agde, a famous little fishing town or from Homps, surrounded by the Minervois vineyards, the canal lazily meanders through a romantic landscape, full of a thousand Mediterranean fragrances. Your cruise will be a never-ending delight under the sunshine which filters through the trees, among the shimmering tones of flowers and the chirp of crickets and grasshoppers. You will enjoy being with your family or friends, walking or riding on tow-paths, stopping at historic or gastronomic localities, totally losing track of time. These are the memories and images that we hope you will keep from your cruise on the Canal du Midi.
Many one-ways are available between the bases in the South,for short stays as well. However, because of hazards which may occur, a one-way cruise and its direction can only be confirmed 48h before departure.
Frontignan bridge : an opening in the morning, one if the afternoon. The travel times indicated for one day are subject to the times of passage of the bridge and of the locks of Fonsérannes.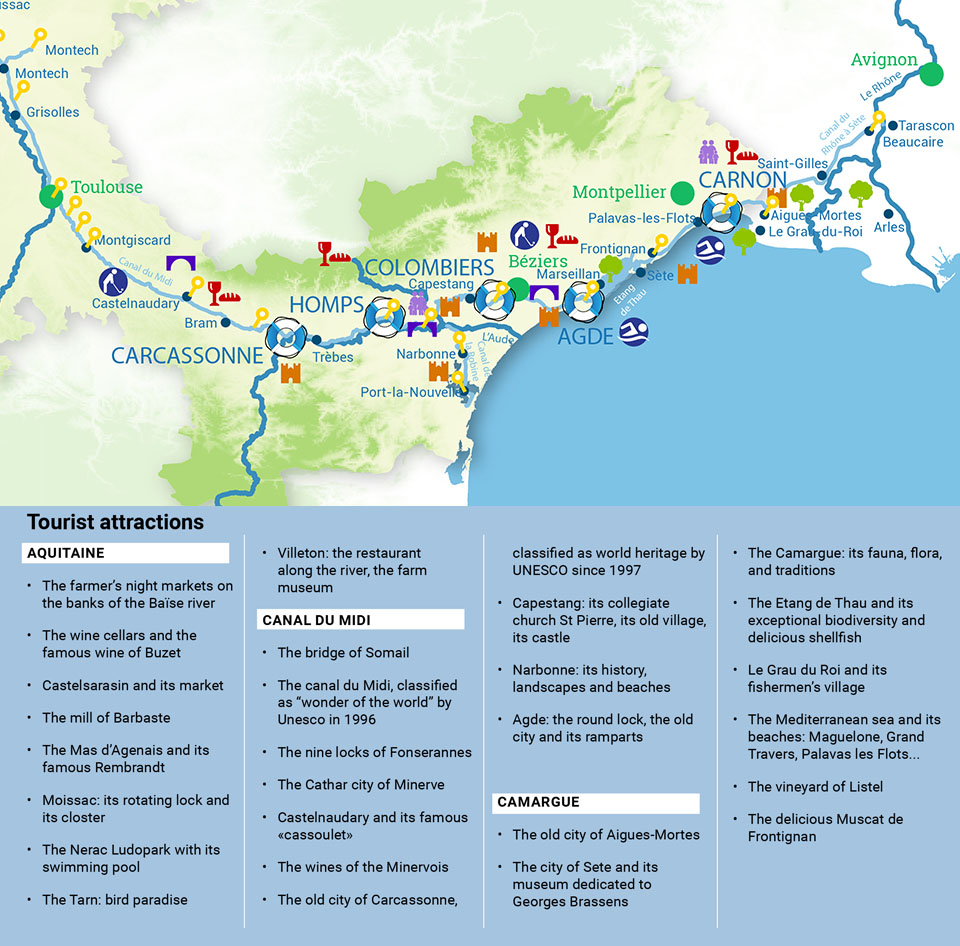 Photos of our inland cruises: Canal du Midi
Discover photos of the Canal du Midi and imagine your inland cruise on the Canal du Midi.
Videos
Travel Vox
Vol 714