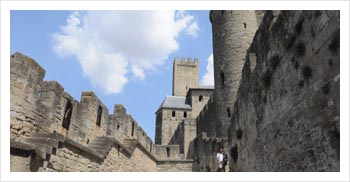 Set in a mild climate, among vineyards, Carcassonne is the only fortified city in Europe which is still inhabited. Steeped in 2500 years if history, this old catharistic fortress is cut in two by the canal of the south and the Aude River.
Located in the middle of the triangle Barcelona – Montpellier – Toulouse, connecting the oceanic world to the Mediterranean world, Carcassonne offers you a thousand and one circuits to discover different aspects of the city and the surroundings. From gastronomic circuits to wine or historical circuits, there is something for everyone to enjoy here!
Informations
To see: the medieval city, the Country house St Pierre, the Middle Age Memoirs museum, the city of the birds (flights of the largest raptors of the world).
To taste: cassoulet with red partridge, crystallized poultry gizzards, chocolates of the city, the knuckle of ham, the conserve of goose and duck.
To know: the city of Carcassonne is doubly classified with the world heritage of UNESCO since 1997.
Most Important: the Im@ginarium (with its virtual theatre which allows you to relive the Cathar period of the city).
Navigation on the South Canal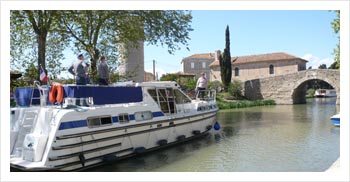 Built in the 17th century by Pierre-Paul Riquet with his famous round locks, this canal was classified "world wonder" by the UNESCO in 1996.
A true hydrolic museum, the South Canal combines a variety of sites and cultural richness which creates a unique experience. Along the 240km from Toulouse to the Thau Lake there is 61 locks, 55 aquaducts, 7 canal bridges and 126 bridges.
Photos
Videos
Tourist attractions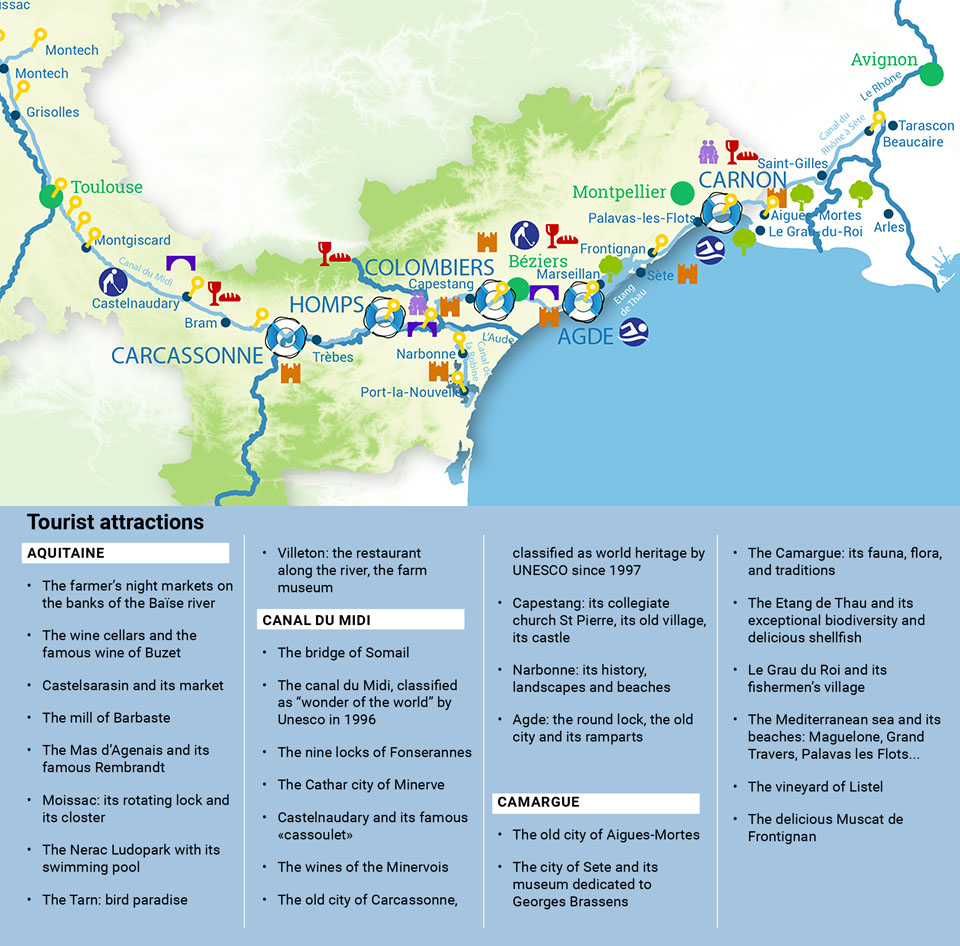 Discover all our tourist information from Carcassonne. Rent a boat without licence and go off to explore the city of Carcassonne, only fortified city to still be inhabited today. Navigate on the Canal du Midi and take advantage of pleasant moments in the South of France.
To know the tourist information from Carcassonne, you can open the interactive map in Google Maps by clicking the map below.
Routes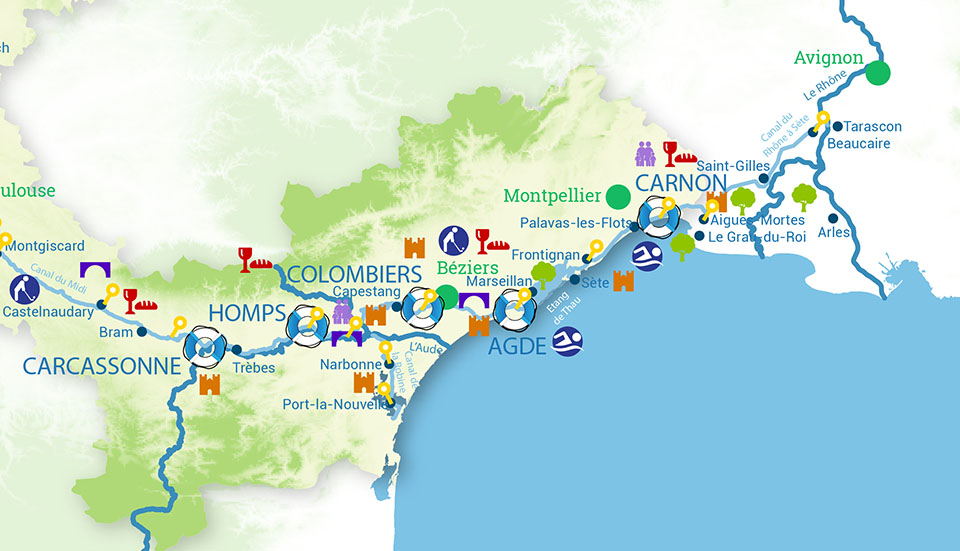 Suggestions for cruises from Carcassonne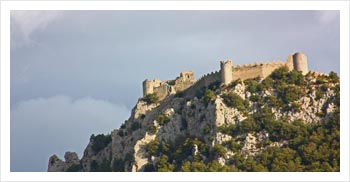 Week-end
Carcassonne – Bram – Carcassonne : 48 km, 10 locks, 9 hours
Week-end one way
Carcassonne – Homps : 40 km, 13 locks, 8 hours
Mini week
Carcassonne, Homps, Carcassonne : 80 km, 26 locks, 16 hours
Mini week one way
Carcassonne – Colombiers : 95 km, 18 locks, 17 hours
One week
Carcassonne, Capestang, Carcassonne : 166 km, 36 locks, 30 hours
Carcassonne – seuil de Naurouze (ligne de partage des eaux entre la mer Méditerranée et l'océan Atlantique) – Port-Lauragais – Carcassonne : 116 km, env. 70 locks, 40 hours
One week one‐way
Carcassonne – Agde : 126 km, 36 locks, 25 hours
Carcassonne – Bram – Carcassonne – Colombiers : 143 km, 28 locks, 25 hours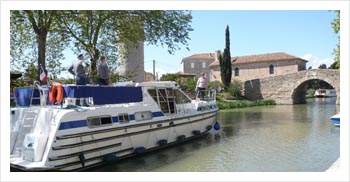 Two weeks
Carcassonne – Montgiscard – Carcassonne : 160 km, 66 locks, 30 hours
Carcassonne, Castelnaudary, Port Lauragais, Carcassonne : 116 km, 70 locks, 58 hours
Carcassonne, Agde, Carcassonne : 252 km, 72 locks, 50 hours
Two weeks one-way
Carcassonne, Carnon : 180 km, 33 locks, 35 hours
Three weeks
Carcassonne, Aigues-Mortes, Carcassonne : 400 km, 76 locks, 70 hours