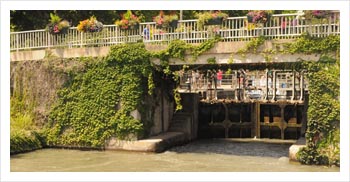 A small village of 600 inhabitants, Homps is an old gallo-roman village, located on the South Canal, at the edge of Minervois and the wine soil of "the Double Money".
The small village restaurants provide delicious meals made from the produce of the surrounding countryside and are well worth visiting. The town also possesses the remains of the castle of the Malta knights and the Roman church of St. Etienne, which are both interesting and informative to see. You can also explore the Cathar city of Minerve which is surrounded by canyons.
Possibility of transfer from the airport of Carcassonne
The one way routes between the Rhone à Sète Canal and the Canal du Midi can be thwarted because of climatic reasons preventing the passage of the Etang de Thau.
Passage of the Frontignan Bridge: an opening in the early morning, one in the afternoon. For timetables, contact your travel agent.
Informations
To see: remains of the castle of the knights of Malta, the church St Etienne, Carcassonne.
To taste: Red and white wine and rosé AOC Minervois, cassoulet, duck sauté au fitou, bread of the cathare country, mussels, oysters, Saint Jean's muscatel wine, sweet or dry food.
To know: Homps is only 33km away from the city of Carcassonne, Narbonne (cathedral St Just Via Domitia)
Most Important: the picturesque village of Minerve.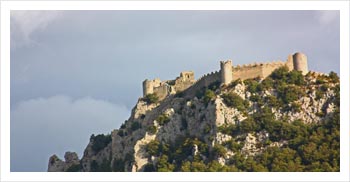 On the Rhone à Sète Canal
Over a hundred kilometers long, the Rhone à Sète Canal goes through Languedoc and the Petite Camargue to reach the edge of Provence. It is the link between the South Canal and the inland waterways of the Southeast.
The Beaucaire Canal, together with the Etangs Canal, form today what is known as the Rhone à Sète Canal which connects the Thau Lake and Sète in Beaucaire.
On the South Canal
Built in the 17th century by Pierre-Paul Riquet with his famous round locks, this canal was classified "world wonder" by the UNESCO in 1996.
A true hydrolic museum, the South Canal combines a variety of sites and cultural richness which creates a unique experience. Along the 240km from Toulouse to the Thau Lake there is 61 locks, 55 aquaducts, 7 canal bridges and 126 bridges.
Photos
Videos
Attraits touristiques
Discover all our tourist information from Homps. Navigate the Canal du Midi and the canal of Rhone to Sète by renting a boat or a barge without licence. Navigate up to the city of Toulouse to the discovery of the Capitol.
To know the tourist information from Homps, you can open the interactive map in Google Maps by clicking the map below.
Routes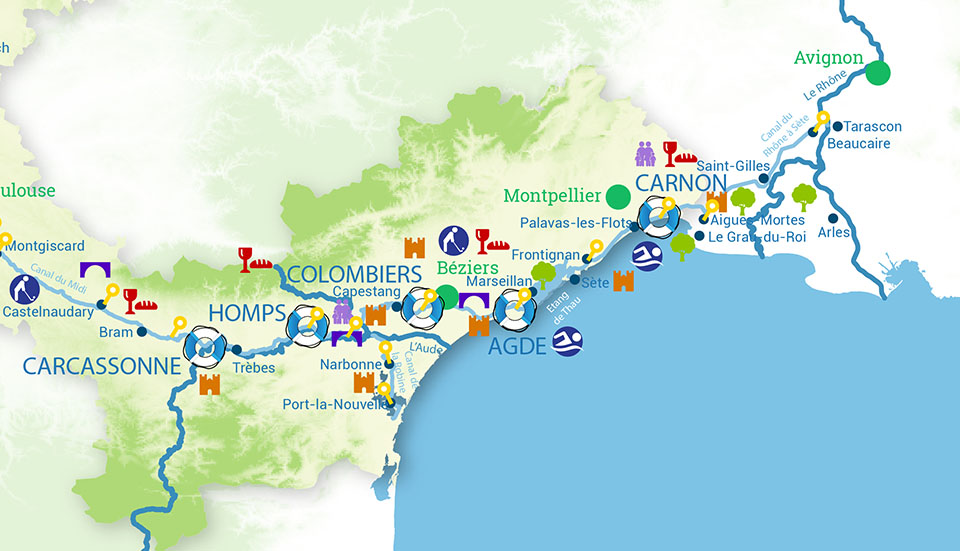 Suggestions for cruises from Homps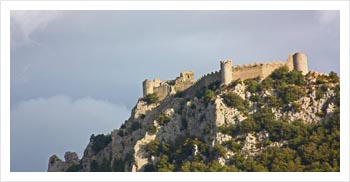 Week-end
Homps – Le Somail – Homps : 42 km, 10 locks, 6 hours
Week-end one-way
Homps – Carcassonne : 40 km, 13 locks, 8 hours
Mini week
Homps, Carcassonne, Homps : 80 km, 26 locks, 16 hours
Homps, Béziers, Homps : 122 km, 8 locks, 16 hours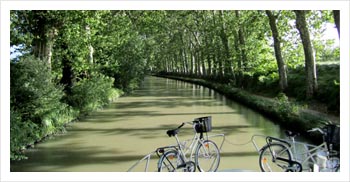 Mini week one-way
Homps – Agde : 86 km, 17 locks, 15 hours
One week
Homps, Marseillan, Homps : 192 km, 36 locks, 30 hours
Homps, Bram, Homps : 128 km, 36 locks, 32 hours
Homps, Narbonne, Capestang, Homps : 70km, 28 locks, 25 hours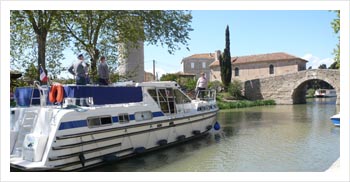 One week one-way
Homps, Carnon : 143 km, 17 locks, 27 hours
Two weeks
Homps, Toulouse, Homps : 280 km, 94 locks, 60 hours
Two weeks one-way
Homps, Bram, Homps, Carnon : 271 km, 53 locks, 60 hours