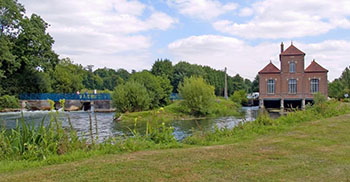 LONG a small village with many treasures.
Located halfway along the coast between the Bay of the Somme and Amiens, Long is a lovely village dominated by an 18th-century castle, which is one of the most beautiful examples of Louis XV architecture in Picardy. Its parklands and ponds on the edge of the Somme, its magnificent greenhouses, and its washhouses and dovecotes will help to explain its nickname of "La folie de Buissy" .
Visit its church, which retains a 16th-century spire, and see the Cavaillé organ inside.
Don't forget to visit the hydroelectric power station, one of the first in France, which has provided light and running water to local houses since the early 20th century.
LONG offers you the bounty of nature with its ponds and its river, a true paradise for hunting and fishing. A village that has preserved a remarkable way of life!
Informations
TO SEE : 18th century castle, "La folie de Bussy"
DON'T MISS : The church with its Cavaillé organ
AS YOU GO : The hydroelectric power station
WE LOVE : The Bay of the Somme
Photos
Tourist attractions
18th century castle, "La folie de Bussy"
The church with its Cavaillé organ
The hydroelectric power station
The Bay of the Somme
Routes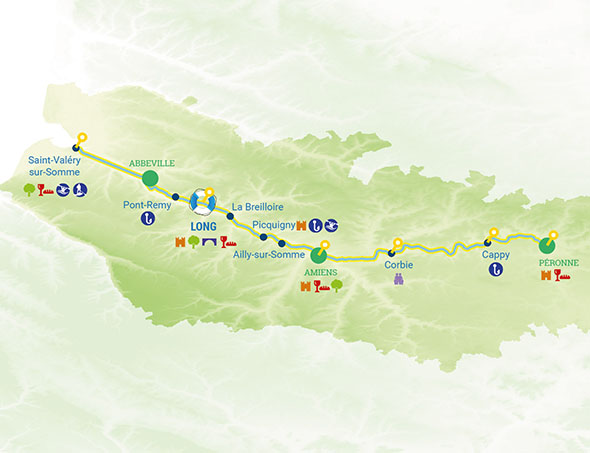 Suggestions for cruises from Long
Week-end
Long, St Valery Sur Somme, Long : 61 kms, 6 locks, 13 hours
Long, Amiens, Long : 66 kms, 10 locks, 15 hours
Mini week
Long, St Valery Sur Somme, Amiens, Long : 127 kms, 16 locks, 30 hours
One week
Long, Amiens, Cappy, Long : 150 kms, 24 locks, 42 hours
Long, St Valery Sur Somme, Amiens, Corbie, Long : 162 kms, 22 locks, 41 hours
Two weeks
Long, St Valery Sur Somme, Amiens, Peronne, Long : 182 kms, 36 locks, 60 hours