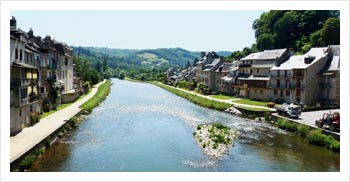 It is in the heart of the vineyard of Cahors, in the Lot Valley, where you will find the small town of Luzech and its medieval vestiges. In this landscape of rivers and plateaus, you will appreciate the calm and benefit fully from nature, by following for example, the botanical nature trail around the Lot Valley.
Given the gastronomic reputation of the Lot Valley, you would find it hard to resist tasting some of the delights of the area such as the fois gras, the duck "magret", the wine of Cahors and many others! If you follow the trails, you are sure to come across one of the country's wine growers who will hopefully be happy to explain all the subtlety of his wines.
Informations
To see: archaeological museum, ammonites museum, flower market.
To taste: Magret of duck, lamb of Quercy, cabécou (small goat's cheese), pastis (cake), wines of Cahors.
To know: this course is punctuated by 16 manual locks without lockkeepers and 1 automatic.
Most Important: ichnospace (1st museum of the prints of dinosaurs and the traces in Europe).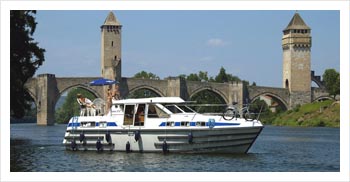 Navigation on the Lot
Crossing 5 natural areas : Gévaudan, Rouergue, haute Auvergne, Quercy and the Agenais; the Lot river is navigable for 76km and offers you peace and the opportunity to dwadle along. It is without doubt one of the most beautiful navigable regions of France. You can cross the valley of the Lot and its vineyards, which are well-known; here you can discover the castles and the villages while going with the current.
Photos
Videos
Menilmonde
Tourist attractions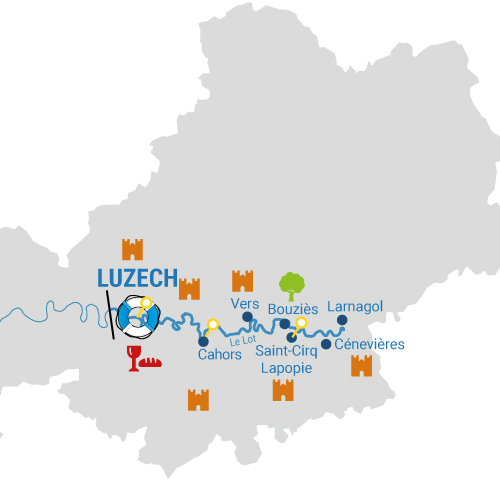 Discover all our tourist information from Luzech. Visit the region of the Lot by renting a boat or a barge without licence and discover its gastronomy and its 74km of waterways where you can navigate calmly.
To know the tourist information from Luzech, you can open the interactive map in Google Maps by clicking the map below.
Routes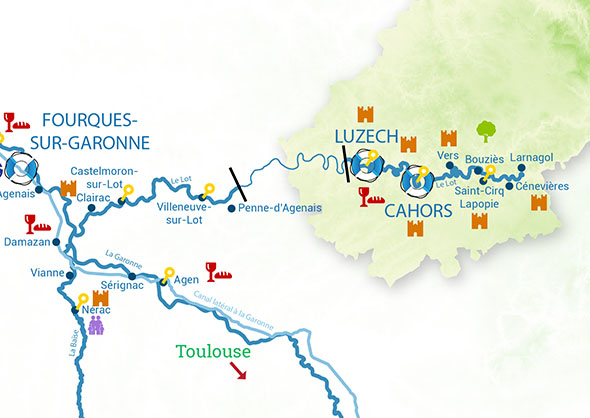 Suggestions for cruises from Luzech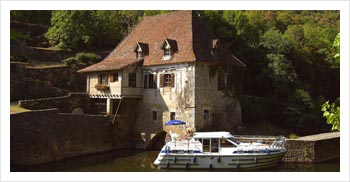 Week-end
Luzech, Cahors, Luzech : 56 km, 10 locks, 11 hours
Mini week
Luzech, Cahors, Vers, Bouzies, Luzech : 116 km, 24 locks, 20 hours
One week
Luzech, Cahors, Bouzies, St Cirq Lapopie, Larnagol, Luzech : 148 km, 34 locks, 30 hours