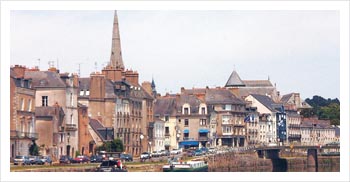 Classified as the most beautiful detour city in France, Redon is at the crossroads of the Breton canals and near the ocean. A pretty, flowery city (it has won multiple prizes for its flowers), Redon offers a very diversified landscape of rivers, green meadows and marshes.
With its changing nature, there are many possiblities for splendid excursions which will often be accompanied by the singing of the birds. A town with a rich past, it has often been called the 'Venice of the West'. If you're intersted in visiting the region, Rennes and its fascinating fine arts museums and the ecomuseum are less than an hour away.
You can learn more about the ancient mysteries and legends of Merlin's Brittany by attending one of the famour evening performances.
Informations
To see: The picturesque city of Redon, the abbey church of St Saver, the museum of the inland water transport of the west, the site of the island of the magpies, the market hall of Malestroit.
To taste: The Redon chestnut – sweetened or salted, the cotriade (fish soup of the Breton littoral) the far Breton, the "pommée" (cider jam of red and thick paste, and caramelized taste), Cervoise.
To know: locks are open even on public holidays.
Most Important: the ecomuseum of Rennes.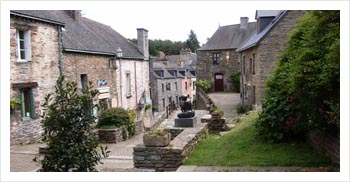 Navigation on the Vilaine
This large Breton river, with its temperamental course, bears its name well, 'Vilaine' which translate to "bad", "vile". A majestic river, it extends from St. Malo de Phily to Pénestin and flows through a stunning array of nature and local cultural heritage.
Navigation on the channel from Nantes to Brest
364km long and punctuated by 238locks, this canal promises you a pleasant naviagtion from its tree-lined banks to its wild shores, you are sure to enjoy yourself amidst such a changing landscape.
Photos
Videos
A little bit of Brittany
Tourist attractions
The castle of la Groulais in Blain
The castle of Josselin, known as the most beautifull in Brittany
Fishing
The gastronomy of the region: the famous «crepes» and pancakes and of course its cider
La Gacilly, village of Yves Rocher and its craftsmen (more than 40 different craftsmen: glass-blowers, painters, wood sculptors…).
Rennes, capital of Brittany: its parliament, its cathedral St Pierre, its Beaux-arts museum
Redon, town classified as "most beautiful detour in France", also called "Venice of the West", and its western shipping museum
Dinan – its port, castle and the 'rue Jerzual'
11 locks in Hédé
Routes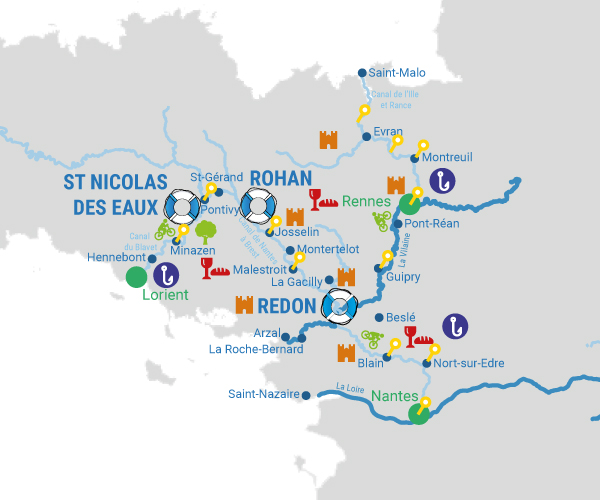 Suggestions for cruises from Redon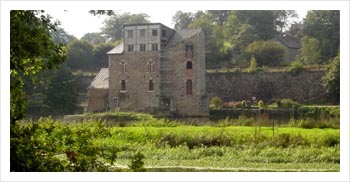 Week-end
Redon – Guipry – Redon : 80 km – 4 locks – 10 hours
Redon – Malestroit – La Gacilly – Redon : 92 km – 12 locks – 12 hours
Redon – Blain – Redon : 90 km – 12 locks – 12 hours
Mini week
Redon – Nort sur Erdre – Redon : 156 km – 32 locks – 25 hours
Redon – Pont Réan – Redon : 146 km – 14 locks – 20 hours
Redon – Montertelot – Redon : 94 km – 20 locks – 16 hours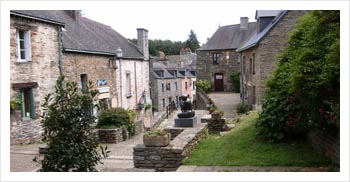 One week
Redon – Josselin – Redon : 126 km – 30 locks – 21 hours
Redon – Nantes – Redon : 190 km – 32 locks – 30 hours
Redon – Rennes – Redon : 182 km – 24 locks – 25 hours
Two weeks
Redon – Pontivy – Redon : 226 km – 164 locks – 62 hours
Redon – Dinan – Redon : 340 km – 118 locks – 66 hours