The regions of Brandenburg and Mecklenburg-Vorpommen offer a succession of superb lakes (such as Müritzsee lake) connected by rivers and canals. These regions are a marvel of nature as much for the purity of their waters as for the great variety of fauna and flora. Enjoy cruising on one of the largest inland waterway spaces in Europe! Remember: bring your binoculars! The base is located in Rheinsberg, a city on the shores of Lake Grienerick, near the magnificent castle and its park, the academy of music and opera house. Lake Stechlin, renowned for its clear water, offers a 12m deep underwater view, to the delight of divers who relish this unforgettable experience. With the navigation certificate obtained from theoretical and practical instruction, boat lovers can delight in the fabulous experience of living on the water, without needing an existing boat licence. This certificate is however not valid from Zehdenick towards Berlin.
Discovery tour
You can make a 2 day discovery tour at the beginning or at the end of the season (from April 4 to April 11 and from October 1 to October 3) to discover the Brandenburg / Mecklenburg – Vorpommern region from Rheinsberg with a Tarpon. See price list – Program on request.
Provisional license: Special regulations for crossing the large lakes (eg Lake Plaue, Kolpin, Flesen, Müritzsee lake). Crossing permitted only within the channel. On Lake Müritz, navigation must be alongside the green buoys on the west side of the lake. The wearing of lifejackets is compulsory for all crew members. Before crossing the Plaue and Müritz lakes, the crew must be informed of weather conditions at the base. Before and after crossing, the crew must register with the base. During the voyage, the crew must be reachable by phone.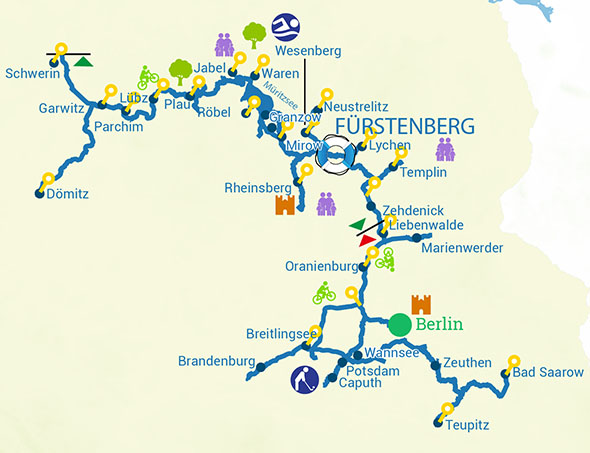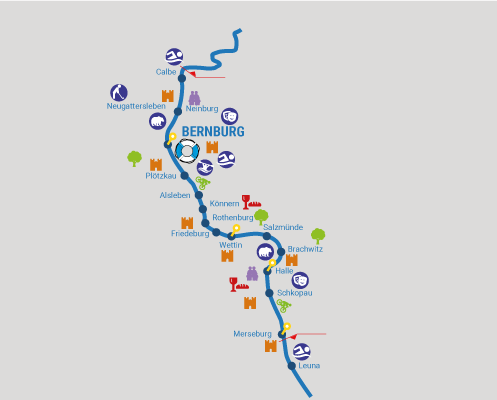 Photos of our inland cruises: Germany
Discover photos of Germany and imagine your inland cruise on a license free boat.
Videos