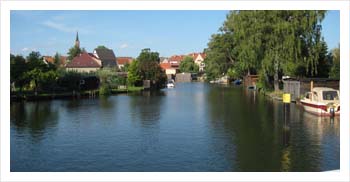 It is in the heart of the country Ruppiner where you will discover the historic city of Fürstenberg between the pond of Müritz one side and Berlin on the other side of the city. Surrounded by vast areas of water and forests, Fürstenberg and its surroundings ally with natural charm and culture and promise you a peaceful and enriching stay.
From towns to villages, you will discover a multitude of small museums, witnesses of their hard past and rich in events. During a ride in the middle of nowhere, you can refresh you mind in peace and will probably cross paths can be hinds, wild boars and even some birds of prey. You can also take advantage of some exceptionally good quality water to bathe in or devote yourself to water sports.
In the evening, you can often benefit from a musical meeting in Castle Theater, or even one of the numerous festivals which take place throughout the summer. Extend your visit to Berlin, only 1:30nhours away and investigate the German capital, so rich in historic and cultural treasures.
Informations
TO SEE: The surveillance tower, the music academy, the opera, the ceramics museum, the Wittstock Todesmarsches museum, the museum of lies in Kyritz, the city of Berlin, the very beautiful lakes, with very pure water
TO TASTE: The fish, the game, the beer
TO KNOW: The certificate of navigation which is given to you after the theoretical and practical instruction is not valid for Berlin
MOST IMPORTANT: The castle of Rheinsberg and its park and the unforgettable sunsets on the lakes
Navigation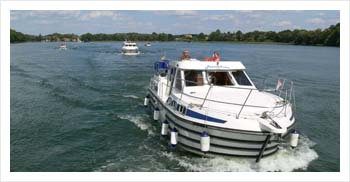 You navigate one of the most beautiful and and largest waterways of Europe. You are invited to pure relaxation in the middle of forests, meadows on magnificent lakes.
In this paradise for nature lovers, you will also go to the front of the discovery of a unique historical heritage.
For people who hold a boat license, there are more navigable waterways in Berlin than in Venice and Berlin offers the animation of a cultural and historic big city, all on water!
Photos
Videos
Welcome to Potsdam
Le paradis bleu
Tourist attractions
The castle of Rheinsberg
Berlin, capital of reunified Germany
The beautiful and pure lakes
The unforgettable sunset
The differents festivals in the ports and harbours
Routes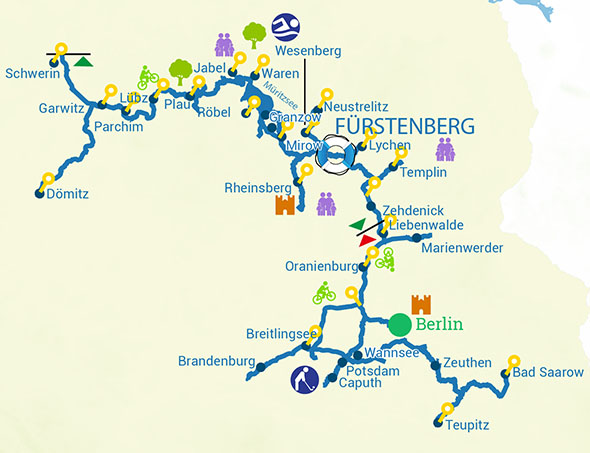 Navigation is not allowed on the Elbe.
Suggestions for cruises from Fürstenberg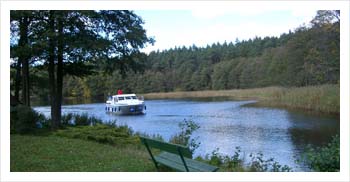 One week
Fürstenberg – Neustrelitz – Rheinsberg – Mirow – Fürstenberg : 193 km – 20 locks – 25 hours
Fürstenberg – Himmelpfort – Lychen – Templin – Zehdenick – Fürstenberg : 204 km – 20 locks – 22 hours
Fürstenberg – Mirow – Waren – Malchow – Röbel – Rheinsberg – Fürstenberg : 250 km – 10 locks – 30 hours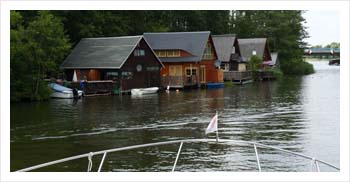 10 / 11 days
Fürstenberg – Lychen – Neustrelitz – Mirow – Röbel – Flecken Zechlin – Rheinsberg – Fürstenberg : 220 km – 20 locks – 40 hours
Fürstenberg – Mirow – Waren – Malchow – Plau – Lübz – Waren – Röbel – Wesenberg – Fürstenberg : 300 km – 14 locks – 40 hours