From Belleek at the Northern Tip of Lower Lough Erne to Killaloe at the southern end of the Shannon, flows a silvery ribbon of inter- connecting rivers and lakes stretching some 700 kilometres through the countryside of Ireland. The shannon and Erne waterways make up the longest non-commercial waterway in Europe and give you access to sights and sounds not available to the weary land traveller. These magical waterways provide so much opportunity for your ideal holiday, with 3 ideally located marinas giving you access to a variety of cruising waters including lakes, rivers and canals.
You could try some fishing or golf, walking or cycling, visit the numerous heritage sites along the river, stop off at towns and villages or spend time exploring the rivers and lakes. Of course Ireland is well known for the many pubs, so why not enjoy a night of traditional Irish music, while sipping a cool pint of Guinness in one of the many pubs along the way! The shannon/Erne waterway which connects the shannon in the Republic of Ireland and Lough Erne in Northern Ireland contains 16 automated locks along its length while there are just 6 manned locks along the entire length of the shannon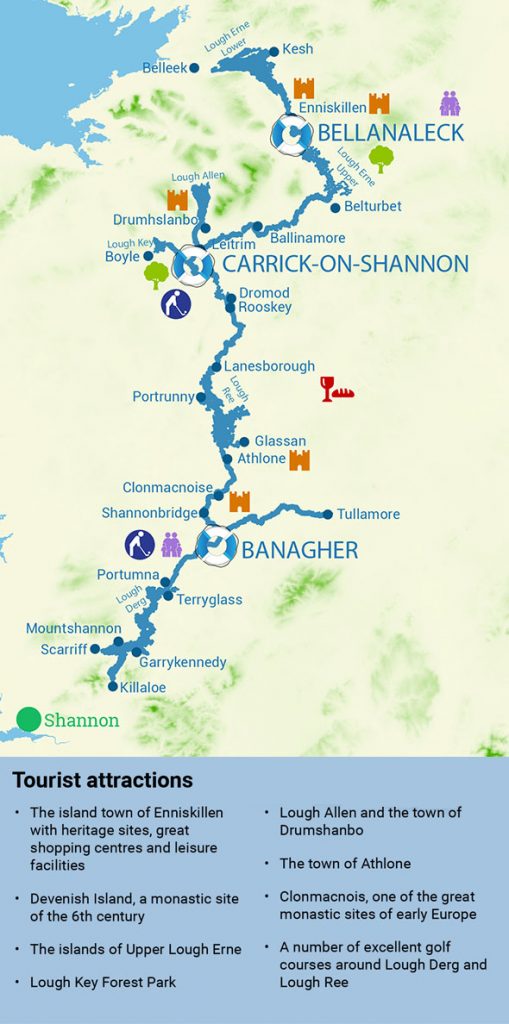 Photos of our inland cruises : Ireland
Discover photos of ireland and imagine your inland cruise on a license free boat.