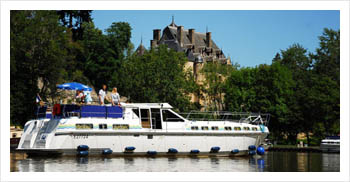 Châtillon en Bazois is at the edge of the Morvan and the Nivernais. The Nivernais Canal runs through villages, valleys, hills, forests and alongside castles. It is worth the view! At the junction of the canal du Nivernais and the Canal Lateral à la Loire, Decize is a central point of interest for these waterways. On your way to Nevers and the Sancerre vineyards, feel the romance in the air, taste the local gastronomy and learn the history of this charming area.
Informations
To see: Ponds of Baye, ecomuseum of Brienne la vieille (collection of farm equipments, old forging workshops, mills, Blacksmith's shop, etc).
To taste: Sweetened shortbread with Morvan honey.
To know: Built in the 18th century, this canal was used for a long time for the transport of wooden 'rafts' from Morvan to Paris.
Very Favourite: The town of Nevers.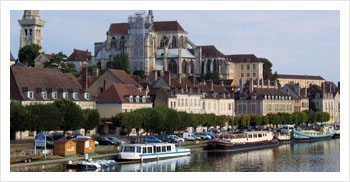 Navigation on the Nivernais Canal
Situated at the edge of the Morvan National Park, the Nivernais canal serves as a link between the Seine basin and that of the Loire. Traversing a beautifully preserved natural environment, this canal is without doubt one of the most exquiste canals in France. It offers a peaceful navigation favouable to those whom like to take their time and meander along.
Photos
Videos
Romain World Tour
Attraits touristiques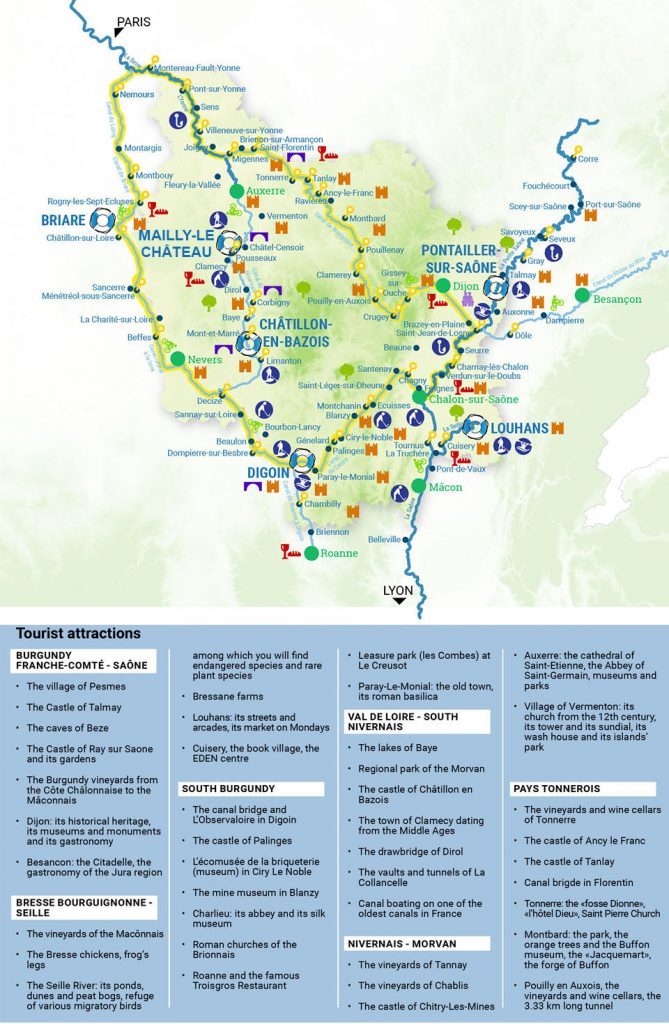 Discover all our tourist information from Châtillon-en-Bazois. Rent a boat or a barge without licence and navigate the Nivernais Canal. Discover the city of Nevers and the abbey of Auxerre. Stroll in the markets of Clamecy or Corbigny, where you can find local quality products. Give yourselves a treat and spend a pleasant moment on a cruise on one of the most beautiful canal of France.
To know the tourist information from Châtillon-en-Bazois, you can open the interactive map in Google Maps by clicking the map below.
Routes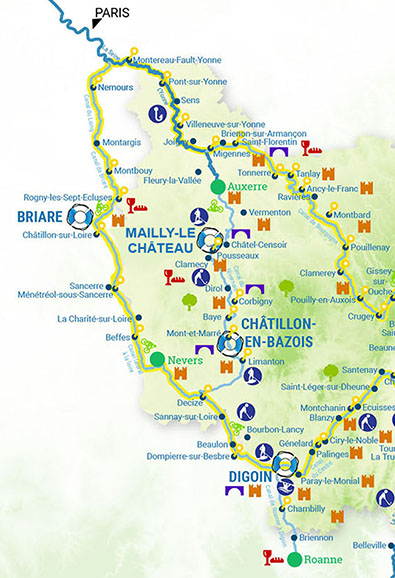 Suggestions for cruises from Châtillon en Bazois
Week-end
Châtillon en Bazois, Baye, Châtillon en Bazois : 32 km – 16 locks – 9 hours
Mini week
Châtillon en Bazois, Corbigny, Châtillon en Bazois : 54 km – 76 locks – 21 hours
Châtillon en Bazois, Decize, Châtillon en Bazois : 106 km – 44 locks – 21 hours
One week
Châtillon en Bazois, Nevers, Châtillon en Bazois : 176 km – 60 locks – 35 hours
Châtillon en Bazois, Clamecy, Châtillon en Bazois : 126 km – 116 locks – 36 hours
One week one way
Châtillon en Bazois, Digoin : 117 km – 38 locks – 27 hours
Châtillon en Bazois, Mailly-le-Château : 90 km – 71 locks – 31 hours
Châtillon en Bazois, Briare : 184 km, 44 locks, 39 hours
Three weeks
Châtillon en Bazois, Auxerre, Châtillon en Bazois : 246 km – 178 locks – 80 hours