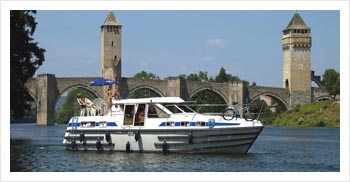 At an equal distance from the ocean and the Mediterranean, Cahors is a stone city set on a plateau. A veritable capital of taste, Cahors offers you many gastronomic delights (truffle, liver of goose, rocamadour … ) and famous wines (wines of Cahors, wines of the slopes of Quercy…), most of which you can find in the particularly famous market of the city. As well as enjoying the local delicacies you can discover Cahors, the ancient city part, the medieval city part and visit the Valentré Bridge. This bridge is the city symbol and one of the most beautiful and best preserved European medieval bridges. It is classified as a World Heritage monument by the UNESCO.
Informations
To see: the Valentré bridge, the medieval city, the museum of Resistance, the fountain of the Carthusian, the St Etienne's cathedral.
To taste: the wine of Cahors, the rocamadour (goat's cheese), the croustillot (Lot bread), le foie gras poêlé, the "brouillade" with truffles.
To know: Along this route there are 17 manual locks without a lockkeeper.
Most Important: the village of St Cirq Lapopie.
Navigation on the Lot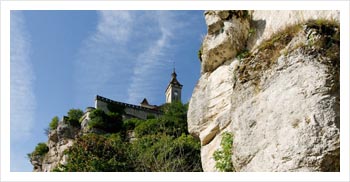 Crossing 5 natural areas : Gévaudan, Rouergue, haute Auvergne, Quercy and the Agenais; the Lot river is navigable for 74km and offers you peace and the opportunity to dwadle along. It is without doubt one of the most beautiful navigable regions of France. You can cross the valley of the Lot and its vineyards, which are well-known; here you can discover the castles and the villages while going with the current.
Photos
Videos
Menilmonde
Tourist attractions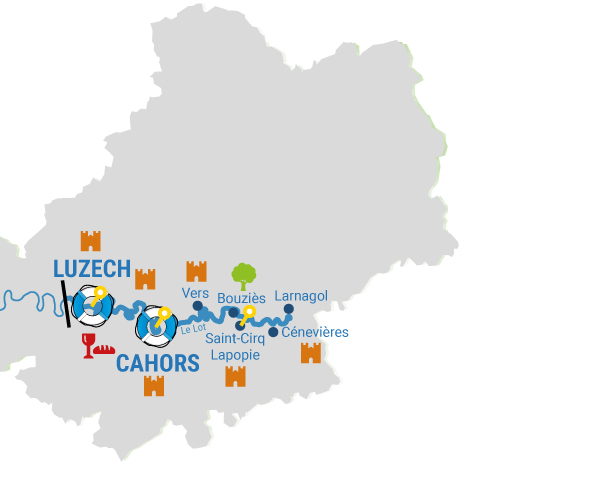 Routes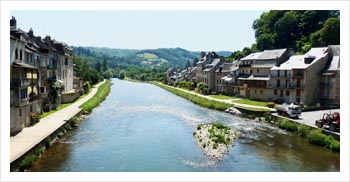 Suggestions for cruises from Cahors
Mini week
Cahors – St Cirq Lapopie – Cahors : 70 km – 22 locks – 15 hours
One week
Cahors – Luzech – St Cirq Lapopie – Larnagol – Cahors : 146 km – 34 locks (Only one automatic) – 28 hoursRoutesAvailable boats