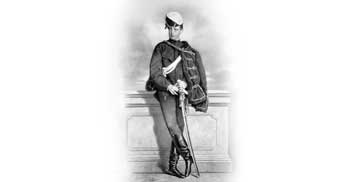 Roc'han, "Petit Roc in Breton", has always been very coveted. At the beginning of the eleventh century, Alain de Rohan settled on the course of the Oust to install a fortress on the Viscount Porhoët border post Rohan which he took the name. From this rich historical past linked to the family of Rohan remain the remains of the castle, the Chapel Notre Dame de Bonne Encontre.
The grain market, an emblematic building in the town's history, once again offers an exceptional and friendly setting for a weekly market dedicated to local products, held every Sunday morning.
Informations
To see: The imposing towers of the castle are reflected in the Oust. Property Rohan, one of the oldest families in Britain, it is the symbol of this beautiful city. Allow half a day to stroll through the charming streets of this small town and visit its basilica.
To taste: enjoy the opulence of seafood, products from the ocean, your taste buds will be all excited by the lobsters at the pulpit
To know: The Gacilly is a small city capable of reserving big surprises.
Most Important: Malestroit, millennial city, small city of character of Brittany, ancient fortified city, is proud of the richness of the architectural and landscape inheritance which it has known to preserve through the centuries.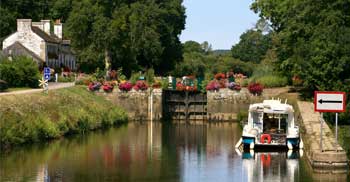 Geography
From the Erdre to the Aulne, the canal is 364 km long, but only 20% of its length (about 73 km) is artificial. Eight rivers are channeled to feed, or arranged to make them navigable, becoming the ramifications of a rather surprising Breton navigable network.
Navigation on the canal from Nantes to Brest
364km long, punctuated by 238 locks, sometimes straight, straight and tree-lined, sometimes sinuous with wild banks, this canal promises you a pleasant navigation, among changing landscapes.
Photos
Videos
The castle of Josselin
Tourist attractions
Abbey of Timadeuc
La Chapelle de Saint-Maudan
The castle of Josselin
Museum The Long Sobs at Réguiny
Countries of legend nearby: Brocéliande, Rochefort en – Terre, Moncontour, Mûr de Bretagne, Quénécan
Routes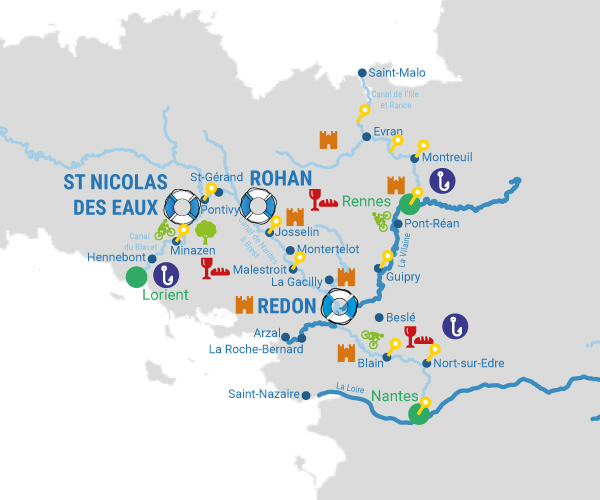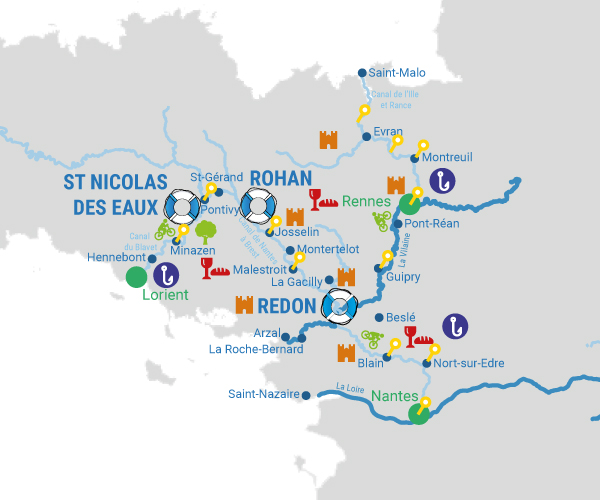 Suggestions for cruises from Redon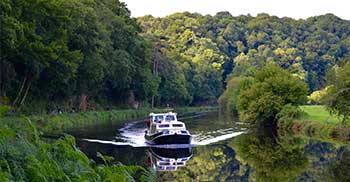 Week-end
Rohan – Cadoret – Rohan : 24 km, 18 locks, 9 hours
Mini-week
Rohan – Josselin – Rohan: 48 km, 34 écluses, 20 hours
Rohan – Bocneuf – Rohan: 36 km, 24 locks, 14 hours
One week
Rohan – Malestroit – Rohan : 100 km, 54 locks, 33 hours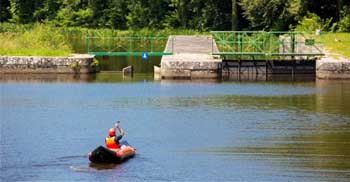 2 weeks
Rohan – Glenac – La Gacilly – Rohan : 172 km, 67 écluses, 46 hours
Rohan – Redon – Rohan : 174 km, 68 locks, 46 hours
Rohan – La Roche Bernard – Rohan : 240 km, 72 locks, 62 hours
One-way week
Rohan – St Nicolas des Eaux : 24 km, 56 locks, 18 hours