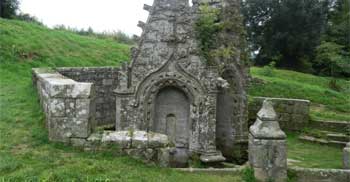 Saint-Nicolas des Eaux is part of the commune of Pluméliau. Pluméliau was formerly a parish dating back to the 6th century at the time of Saint Meliau and including the present commune of Pluméliau with his Trève de Saint-Nicolas-des-Eaux, Remungol, Moustoir-Remungol, it was attached to the deanery of Porhoët.
Informations
To see : Pontivy. Born in the Côtes d'Armor, the pretty river Blavet winds south to go into the harbor of Lorient. The navigable part of Blavet begins at Pontivy. The city of Pontivy is worth a stop for a day! On the program: the imposing medieval castle of the Rohan, the corbelled houses of the old town which contrast with the rigor of Napoleonic buildings and further a myriad of small chapels to discover.
To know : Poul-Fetan is a Breton village like no other. At the edge of the shady valley of Blavet, this cottage village lives to the rhythm of the 19th century. With family or friends, we can participate in activities of daily life!
Most important : Lochrist Inzinzac. Relive the epic of the Forges d'Hennebont, which, for a century, provided in tinplate tinned canning.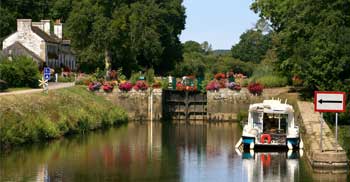 Geography
From Erdre to Alder, the canal is 364 km long, but only 20% of its length (about 73 km) is artificial. Eight rivers are channeled to feed, or arranged to make them navigable, becoming the ramifications of a rather surprising Breton navigable network.
Navigation on the canal from Nantes to Brest
364km long, punctuated by 238 locks, sometimes straight, straight and tree-lined, sometimes sinuous with wild banks, this canal promises you a pleasant navigation, among changing landscapes.
Photos
Videos
Hennebont
Tourist attractions
Les Côtes d'Armor
La porte Broerec'h
Poul-Fetan, a Breton village like no other.
The eco-museum of the forges d'Hennebont
Routes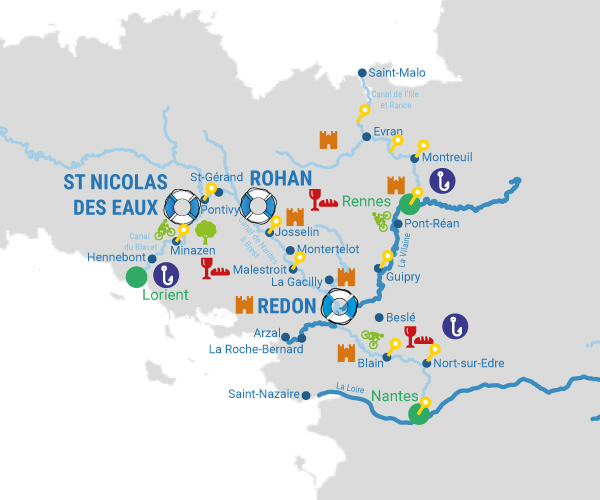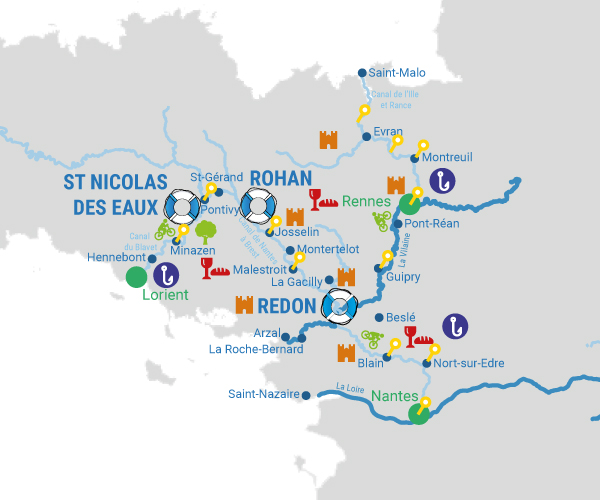 Suggestions for cruises from Saint Nicolas des Eaux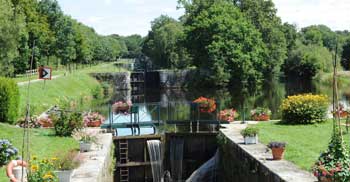 Week-end
St Nicolas – Pontivy – St Nicolas : 35 km, 16 locks, 9 hours
St Nicolas – Minazen – St Nicolas : 41 km, 18 locks, 10 hours
St Nicolas – Pont Augan – St Nicolas : 37 km, 18 locks, 9 hours
St Nicolas – Tréblavet – St Nicolas : 18 km, 8 locks, 4 hours
Mini-week
St Nicolas – Pontivy – St Nicolas : 35 km, 16 locks, 9 hours
St Nicolas – Pont Neuf – St Nicolas : 58 km, 22 locks, 12 hours
One week
St Nicolas – Hennebont – St Nicolas : 80 km, 34 locks, 20 hours
St Nicolas – Lochrist – St Nicolas : 74 km, 28 locks, 16 hours
Two weeks
St Nicolas – Pontivy – Hennebont – St Nicolas : 120 km, 50 locks, 35 hours
St Nicolas – Pontivy – Rohan – Josselin – St Nicolas : 131 km, 160 locks, 70 hours